For as long as I can remember, I have wanted to find the love of my life. That's a thing, right? The perfect person with whom everything is natural, effortless, endlessly romantic? I jumped into marriage, chased after fairytales, made mistakes and selfish choices all in the name of finding true love and happiness.
Then it came time to grow up. In looking back at my conduct in relationships, I saw the opposite of the famous verse: "Love is patient, love is kind. It does not envy, it does not boast, it is not proud. It is not rude, it is not self-seeking, it is not easily angered, it keeps no record of wrongs." I had been impatient and selfish, arrogant and unkind, quick to anger and blame, slow to let go of wrongs. I realized that if I didn't change, no man would ever be the "right" guy. I'd end up alone with a cat and a lot of regret.
When I stopped looking at the world as if it owed me a true love and started seeing love as something you build and grow with another person, I saw clearly what had been in front of me for some time. There was a man who had stood by me through good times and bad, who had been my partner and best friend, who had introduced me to the world of road racing and helped me finally accomplish the dream of riding professionally. He was kind, giving, handsome, and smart, and even my dogs adored him. When I recognized these things and saw how carelessly I'd taken them for granted, changing came almost effortlessly.
The idea of getting married had come about many months earlier, but after we'd taken steps in that direction, I backpedaled and tabled the idea. I'd even gone so far as to vow that I would not be marrying Andrew, no way, not going to happen. But I was wrong. When my attitude and actions changed, everything fell neatly into place. Andrew had been there all along, but when I was ready to join him, things between us just worked.
It started with a dress. I'd seen a beautiful short wedding dress online and, while on a road trip with many hours in the car, I mentioned it to Andrew. He liked the picture and shipping was free, so we figured what the hell? Might as well try it out. I ordered it right from my iPhone.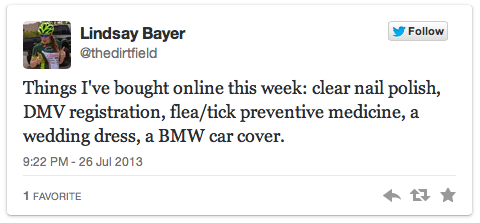 That started a conversation that ran for several weeks. If we were to have a wedding and I wore that dress, what kind of shoes would I wear? What color flowers would I carry? What kind of suit would you want? The details were fun to think about; nevermind that we hadn't actually decided to get married. Our imaginary wedding was simple, sweet, and focused on the things that mattered to us the most.
When the conversation turned to the best hypothetical dates and we chose October 11th, it was time to ask the real questions: Are we serious? Are we ready? Are we certain? The answers were yes, yes, and yes. I was nervous about my ability to be a good partner and wife in the long run after such a history of coming up short, but I was committed to making it work. Andrew was worth the effort.
So it was decided. We would marry on October 11th on the porch of the old general store in Bluemont, Virginia. We'd have dinner and spend the night together at the Ashby Inn, located just on the other side of the mountain from Bluemont. The next evening, we'd have our parents come to Alegria (our favorite place) for dinner and celebrating. To keep everything simple and focused on the meaning of the event – the start of our marriage together – we planned to keep it a secret from the world until after it was done.
We did tell our parents about our plans because we didn't want them to feel excluded or blindsided. They each expressed a desire to be present for the ceremony and, since they gave us life and all, it seemed like a reasonable request. And so it was settled. Arrangements were made, details were finalized, and then it was time to get married.
The weather didn't cooperate; it rained nonstop for days before the wedding. By the Thursday prior, our plan to get married on the porch of the store sounded miserably cold and wet, so the Inn let us rent their covered, heated terrace instead. At 5pm on Friday, October 11, 2013, I married Andrew Steele. The rain fell, the terrace was lovely and warm, and we spent two hours with our families after the ceremony drinking champagne and eating cake as night fell and the beautiful lights came on. In the end, I was glad that it rained. The evening was perfect.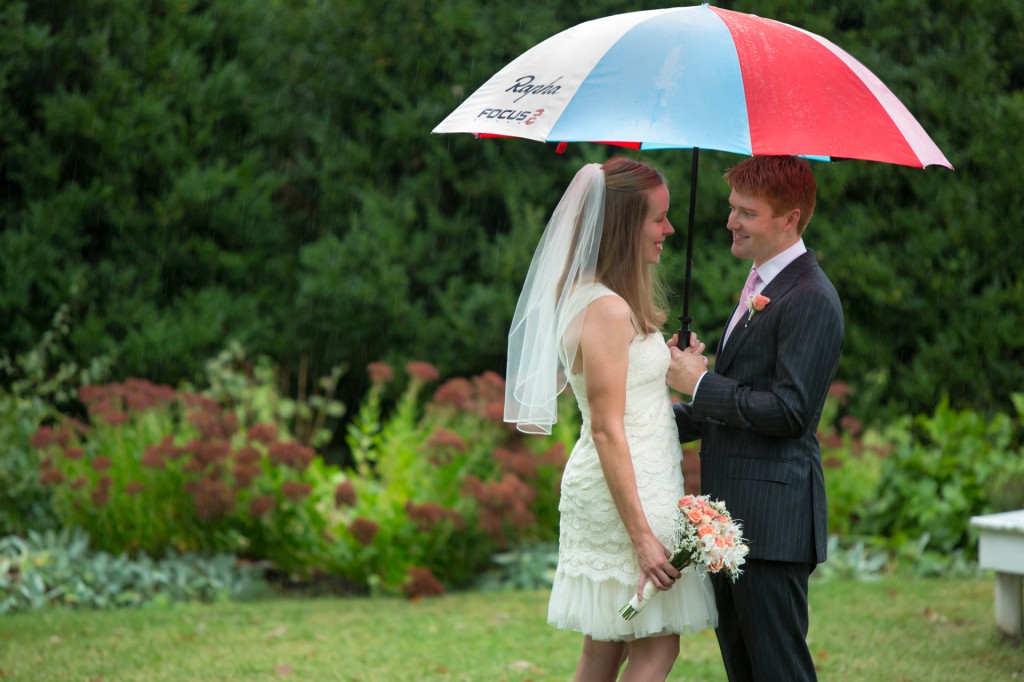 And now we are married and I could not be happier. He is not perfect, I am not perfect, but we have such love and friendship between us. I feel calm and safe and settled. I know that no matter what life brings, he and I will get through it together. I will spend each day working to appreciate that and never take it for granted. The love of your life is not something you find; it is something you make.