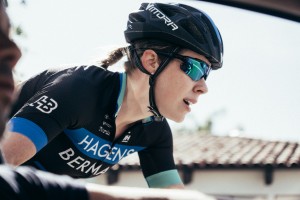 I did my first race in June of 2007. It was a cross country mountain bike race at Wakefield Park, and I had just learned to use clipless pedals without falling over. During the race, I kept thinking, "This is horrible; it's hot, I'm tired, and this feels like work. I'm never doing this again." I came in third, won a $10 gift certificate and a waterbottle, and decided I wanted to go to the Olympics.
After a few years of racing in the woods, I tried my first road race. It wasn't great. I decided to do a few more and realized that when there are not trees in my way, I can go faster. Now I don't even own a complete mountain bike and I use words like "peloton" and "drafting" and "dirty mountain biker hippies" in regular conversation.
At the beginning of 2013, I started my first season as a professional cyclist with Team Colavita/Fine Cooking. Now several years later, I'm co-owner and rider for the Hagens Berman | Supermint Pro Cycling Team with my partner and director, Jono Coulter. I'm still not entirely sure how I made it here, but life is nothing if not wonderfully surprising.