I don't want to make every post about this eating disorder, but frankly, it's the most interesting thing in my life at the moment and, gravity of the issue aside, it's fertile ground for dark humor. When I'm crying over a pancake or bonking on a recovery spin, it doesn't exactly seem funny, but in retrospect the absurdity is entertaining. In a sense, I'm laughing at me, not with me, but it brings perspective and makes me want to skip the mockery-worthy behavior in the future. Case in point: I rode extra long last Friday, cracked hard from lack of proper food, acknowledged this and vowed to be better, went out that same night for toasted marshmallow milkshakes, panicked, and hurried home to throw up.
I know. Terrible thing to do, etc. It was awful in the execution, not least of all because of this: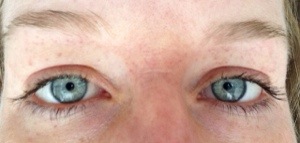 When I throw up, blood vessels all around my eyes break and I end up looking speckled and diseased. On Friday night, it was the worst I've ever seen. Shockingly red and widespread. Why would anyone inflict this intentionally? Over a fluffy and delicious milkshake, no less. On the bright side, it tasted the same going out as it did going in, but I was in too big of a hurry to enjoy it. After all, I'd only manipulated Andrew into running down the street for a moment, so I was tight on time before he'd come back and be like, "Uh, yeah, so let's not do this anymore." And then I'd have to live with the unspeakable consequence of having a milkshake.
OH THE HORROR.
This probably doesn't seem amusing to you, but it helps me to look back on the moments when this disorder was at its worst and be like, "dude, that shit I did was CRAY." I see a person who was willing to hug a toilet bowl and snot out used milkshake and explode a constellation of blood vessels all over her face, and I can hardly believe that was me. It seems more like a Lifetime movie, some overblown caricature. But no, I actually rushed my husband home from Georgetown because I was in a hurry to get rid of marshmallow ice cream.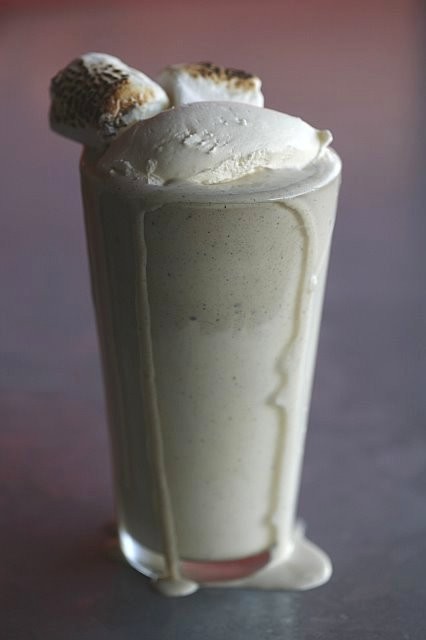 As an aside, if you live in the DC area, go get a toasted marshmallow milkshake from Good Stuff Eatery. SO FREAKING GOOD. It's so good, in fact, that I'd be willing to have it again and actually hang on to it all the way through normal digestion. If that's not a glowing endorsement, I don't know what is.
While I'm busy making lighthearted jokes at my own version of rock bottom, I'm also understanding the seriousness of the situation and deciding not to make that mistake again. I'm not ready to let go of the other behaviors yet, but that one can go. If I really want to re-experience something I've eaten, I'll just order up another portion. And then ride for an extra three hours.