You know those nights when you go to bed and nothing happens? You lay there and lay there and eventually start to grow moss but sleep doesn't come. That was me on Saturday night. After several hours of chewing my pillow in exasperation, I resorted to reading until sleep finally came. When my alarm went off at 6am so I could volunteer at the Capital Cross Classic, I had been asleep for less than four hours and woke up ready to punch somebody in the face.
My beloved 14-year-old dog was the my first interaction of the day. Okay. No punching.
So I got up feeling exhausted and cranky, put on fifteen layers of clothing (how many pairs of leggings equals one pair of actual pants?), and headed to the race. I began my volunteer duties, caught up with friends I hadn't seen in months, and was bordering on hypothermic within two hours. Eventually I headed to the heckler's tent where there was a campfire that I bonded with so closely that it burned a hole in my pants. I was sitting there with friends discussing our vague intentions to ride "later" when somebody (HI FRANK) jokingly suggested that his girlfriend and I should enter the elite women's race.
Haha. Ha. That's funny. Lemme just put on another five layers of clothing and become one with this log.
Except the idea poked me in the brain hard enough that I looked up the start time. It was in an hour. I had no cross bike, no cross shoes, no cash to register. I was sitting in the woods a quarter mile from the parking lot freezing my ass off and I hadn't eaten in four hours. Also no sleep.
Of course this seemed like a brilliant idea. "I'm going to the car for a snack," I announced, not wanting to commit to the plan I was 110% committed to in my head. I rushed back to the parking lot, stopping only to grab and inhale a handful of Oreos from a random package on the ground. Whatever. I was dumpster diving a week ago.
The events of the next forty minutes were a blur. I borrowed a cross bike from a very kind and same-sized friend. Changed into cycling clothes in the parking lot. (See? I really did intend to ride later.) Tried to source shoes. Remembered to raise the seat. Registered and pinned a number. Borrowed shoes from the same friend and realized that donating my foot sweat to him meant I owed him more alcohol than I could probably afford. The plan was crazy and last-minute and haphazard but my friends all came together to make it happen. I couldn't have pulled it off without them.
With 10 minutes to spare, I was ready. That seemed like enough time to practice a few dismounts and remounts on a grassy stretch. While I was no Katie Compton, it wasn't a total trainwreck and my biggest struggle was clipping in. There was a perpetual missed connection between the cleats and pedals and when I did manage to latch in, there was no obvious click and I could only confirm by yanking up on the pedal. It's great to be a beginner.
I rolled to the start and staged at the back, where officials store people who have accomplished nothing thus far this season. The official gave brief pre-race instructions, saying, "You all know the drill," and I had to call out that no, I actually didn't and, um, how many laps are we doing? IS THERE A FREE LAP? When she asked if everyone was ready, I yelled NO and then the whistle blew.
The race started fast and unsurprisingly, I did not get the holeshot. I was awkward in the group, but also fired up and excited. Racing cross is so physical: it's you and the bike pushing hard over varying terrain, but also you and the other riders vying for space and squeezing each other out at every turn. My first lap was not pretty. I hadn't seen the course other than the parts I'd crossed briefly on foot and wasn't exactly smooth on the technical sections. If you were behind me, you have my sincerest condolences. But I fought to pass riders and stay ahead because it's bike racing and the part of me that fights to the death when there's a bike involved was out in full force. I smashed every part of the course as hard as possible.
Early on, I felt like an octopus riding a unicycle while drunk and on fire. I even had to ask another racer if we were supposed to use the drops or not. I fumbled to clip in and stumbled over the running sections. But then it got easier and I felt things coming together. I passed more people, opened gaps, and found it easy and even fun to dig painfully deep. My heart rate was somewhere around 190 and my legs were screaming WHAT ABOUT RETIREMENT but oh my god, I felt alive and so damn good.
To everybody who cheered all around the course, thank you. Realizing how many friends I had out there would have brought tears to my eyes if I wasn't already nearly weeping from the exertion of trying not to crash into trees. At one point, I heard a guy on the sidelines ask, "Is that Lindsay Bayer?" Trust me, dude, I was as surprised as you.
After six glorious laps of fighting and flailing, I finished third, winded and hurting and thrilled.
WHY DID I NOT DO THIS SOONER?
There are real answers to that question that end up being part of a much larger discussion about racing and my career and life in general. I made choices in the past five months to move in one direction and along the way, lost the fire and fight that made me the kind of person who turned getting the mail or eating cheese into a do-or-die competition. Throw in a broken rib a few months back and there went the hypothetical cross season I'd planned. But one minute yesterday I'm freezing my butt off on a log in the woods thinking the people on course look insane and the next minute I'm throwing elbows and smashing pedals trying to get ahead.
It was the best moment I can remember in a long time. Months, really.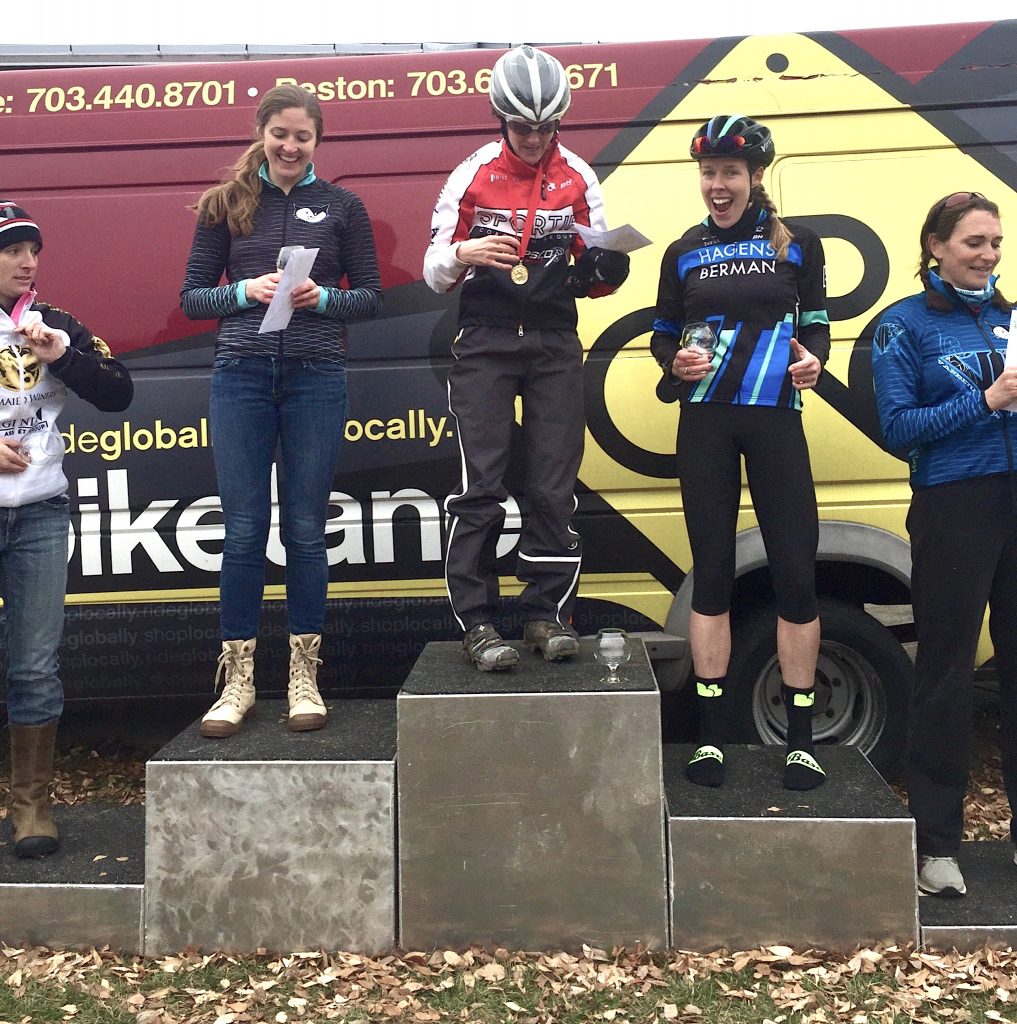 Things haven't been good for a while now. The last 12 days have been the hardest of my life, and the months prior were filled with uncertainty, insecurity, and conflict. Somebody hurt me badly, but I also put myself in a position to be run over and allowed it to happen. I've felt off-kilter and unsteady for months, trying to figure out what I was doing and who I was becoming. It wasn't going well; I was lost and depressed and frustrated by 'choices' I was making that didn't feel like my own. I thought I was compromising for love, but instead I was compromising myself. Yesterday I did something wildly impulsive and bold and it felt fantastic. Like waking up after a bad dream.

It wouldn't have been possible or nearly as enjoyable without the help of some really great people. To Frank – thank you for the crazy idea. To Alistair and Laura – thank you for the bike and shoes. To Arden and RJ and Mary and Jim and Andrew – thank you for helping me make it to the start line. To Bruce – thank you for putting on a kickass event and letting me participate. To everybody cheering – thank you for the reminder that the mid-Atlantic cycling community is an awesome place to race. To the person who owned the Oreos – I really hope that bag was fresh.